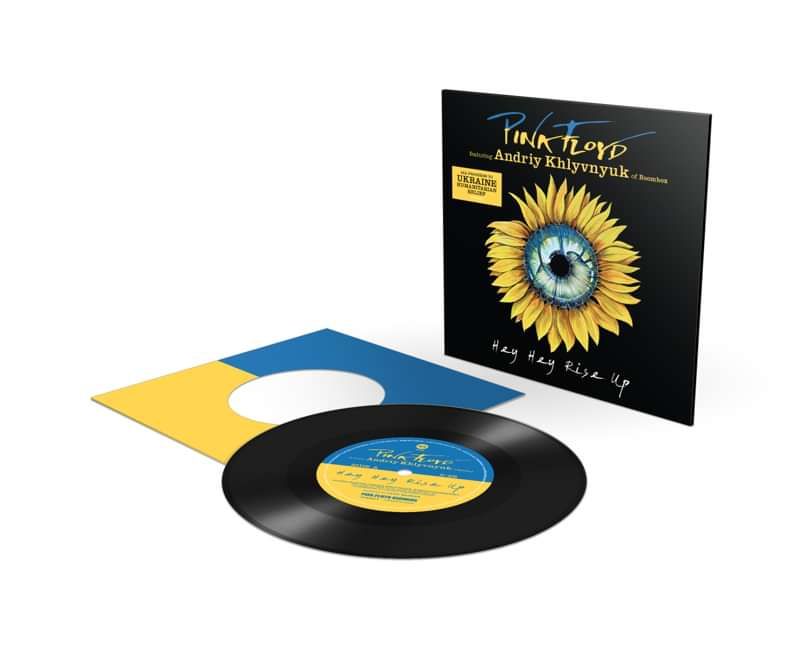 Pink Floyd Hey Hey Rise Up 7" Vinyl
PINK FLOYD FEATURING ANDRIY KHLYVNYUK FROM BOOMBOX
'HEY HEY RISE UP'
LIMITED EDITION 7" VINYL
FEATURES A NEW REWORKED VERSION OF 'A GREAT DAY FOR FREEDOM' FROM THE DIVISION BELL ALL FORMATS BENEFIT UKRAINIAN HUMANITARIAN RELIEF
"An extraordinary protest song for extraordinary times" The Independent
"Deeply urgent, deeply moving" The Times
Pink Floyd is to release two physical versions of their first newly recorded music in over 25 years, 'Hey Hey Rise Up'. The single, which was initially released digitally in April in support
of the people of Ukraine and was #1 in 27 countries, will be available on 7" and CD single. Both formats will also feature a newly reworked version of 'A Great Day For Freedom' taken from the band's 1994 album, The Division Bell. The lead track sees David Gilmour and Nick Mason joined by long time Pink Floyd bass player Guy Pratt and Nitin Sawhney on keyboards and features vocals by Andriy Khlyvnyuk of Ukrainian band Boombox.
When the track was first recorded at the end of March, Andriy, who left his band's US tour to return home and fight for his country, was in a hospital bed in Kyiv recovering from a shrapnel injury. Proceeds for the physical release and the ongoing digital proceeds will go to Ukraine humanitarian relief.
For this limited-edition release, David Gilmour revisited The Division Bell track 'A Great Day For Freedom', he has reworked the song using the original tapes which feature Nick Mason on drums and Richard Wright on keyboards, along with backing vocals from Sam Brown, Claudia Fontaine and Durga McBroom. The track was composed by Gilmour with lyrics by Polly Samson and himself. The artwork for the track 'The Sunflower Look' features a painting of the national flower of Ukraine with a twist by the Cuban artist Yosan Leon. The cover is a direct reference to the woman who was seen around the world giving sunflower seeds to Russian soldiers and telling them to carry them in their pockets, so that when they die sunflowers will grow.