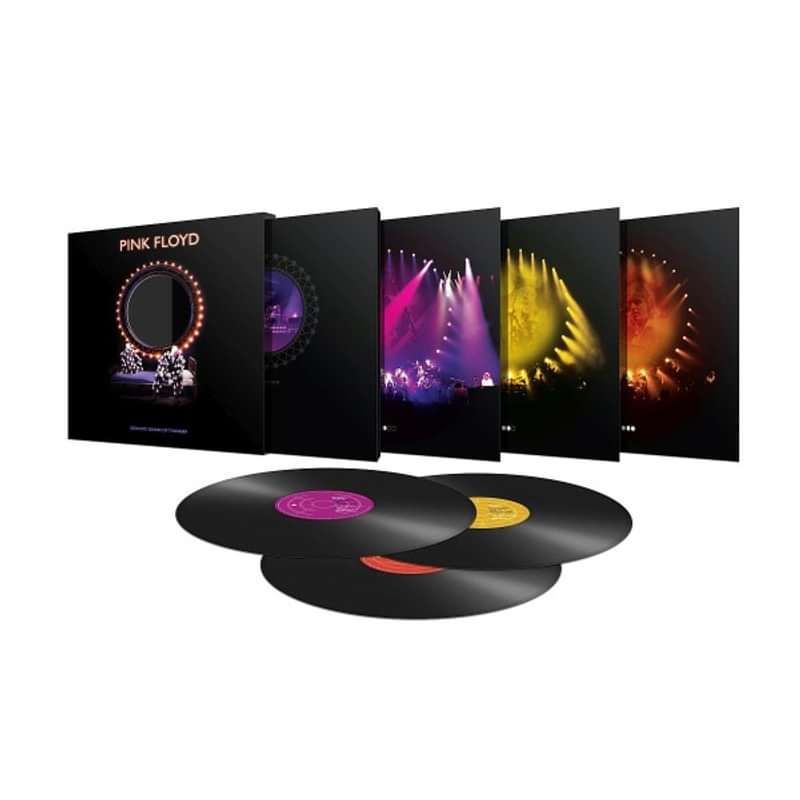 Pink Floyd Delicate Sound of Thunder 2020 Release LP (3-Disc)
Full 2 hour, 21 Mins show. Remixed / Remastered.

Packaging: 3 x 180g LPs in black Poly liners plus card outer sleeves with spine / 24 page booklet / slip case with die-cut hole in front to reveal band on stage.

Length: 2 Hours, 21 Mins / 23 tracks. Includes 9 tracks not on original vinyl LP.
Tracklist
Shine On You Crazy Diamond (Parts 1-5) (Live, remix 2019) 12.02
Signs Of Life (Live, remix 2019) 3.24
Learning To Fly (Live, remix 2019) 5.20
Yet Another Movie (Live, remix 2019) 6.16
Round And Around (Live, remix 2019) 0.35
A New Machine Part 1 (Live, remix 2019) 1.35
Terminal Frost (Live, remix 2019) 6.17
A New Machine Part 2 (Live, remix 2019) 0.32
Sorrow (Live, remix 2019) 10.33
The Dogs Of War (Live, remix 2019) 7.58
On The Turning Away (Live, remix 2019) 9.04
One Of These Days (Live, remix 2019) 6.28
Time (Live, remix 2019) 5.19
On The Run (Live, remix 2019) 2.47
The Great Gig In The Sky (Live, remix 2019) 4.51
Wish You Were Here (Live, remix 2019) 4.38
Welcome To The Machine (Live, remix 2019) 7.58
Us And Them (Live, remix 2019) 7.34
Money (Live, remix 2019) 8.18
Another Brick In The Wall Part 2 (Live, remix 2019) 5.32
Comfortably Numb (Live, remix 2019) 9.54
One Slip(Live, remix 2019) 6.08
Run Like Hell (Live, remix 2019) 8.05